Refurbishment features and additions
Buildings age, styles change, building uses change, but metal buildings can be rejuvenated by renewal with over sheeting or re-cladding.
This can give a building a new lease of life by adding insulation, curing leaks or condensation and giving a new and fresh appearance.
Trimform is well placed to provide components to do this, from roof and wall profiles for strip and re-sheet or over-roofing, to new drainage systems, to structure for an extension.
Even if the refurbishment is the removal of old roof level plant and repairing openings or the alteration of an existing building, Trimform can match obsolete panels to allow a repair to take place.
Matching Obsolete Profiles
Sometimes you need to replace a roof or wall profile on an older building and cannot find the original manufacturer of the profile. Trimform can match old or obsolete profiles enabling repairs or refurbishment to proceed.
Trimform will need the dimensions of the existing profile along with a photo so that a matching brake pressed profile can be made. The only thing Trimform cannot do is to match a weathered and faded colour!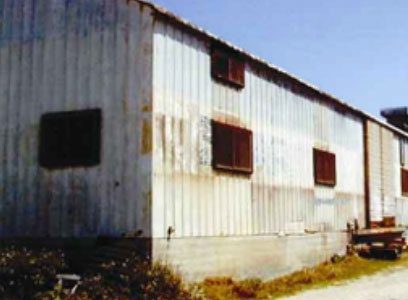 When a roof covering has reached the end of its working life, over sheeting is often the most economic method of prolonging life with durable materials. Subject to structural survey and checks of the existing structure and purlins, over sheeting with Techbar spacers, added insulation and a TF32-1000R top sheet will give energy savings, a more comfortable working environment, better sound insulation and a trouble free roof for years to come. The pre-painted steel TF32-1000R will also have a durability guarantee to protect your asset.
Trimform also manufactures rainwater gutter systems and flashings to complete the refurbishment.
Download the Trimform Products_Profile range PDF for a quick summary of the Trimform roof and wall profiles available.